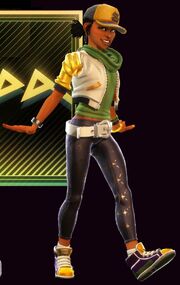 Lil'T(Tiyanna) is a member of Flash4ward Crew. She is the younger sister of Taye and she is following her footsteps. Lil'T has alot of attitude and isn't afraid to show it. She is sassy and a confident 14-year-old. Whenever she does her taunts, she likes to say she is better than the rest,just like Taye.She, alongside with Glitch, both represents younger dancers in the game.
Lil T and Taye represent their family and hometown in Atlanta,GA by dancing.
Outfits
Flash4wrd Look:
She is shown to be wearing gray denim skinny leggings with a design of gold "T"s and sparkles, a white belt, a green sleeveless blouse with a baggy turtleneck with Flash4wrd's color signature colors on her jacket. In the back of her jacket there is an embedded gray "T". She is shown wearing black and green wrist bands and a gold bangel on her left hand and a silver bracelet on her other hand. Her shoes are yellow, green, purple and white shoes similar to Nike's with white laces. She also wears silver hoop earrings. The gray and gold hat she is wearing belongs to Taye in the original Dance Central. She is also wearing a ELIOT keychain.
Street Style look:
She is shown to be wearing a lavender shirt and in the front says Li'l T in gold, light blue denim torn capris, pink and purple converse and light purple socks. Also, on both arms, she has bundles of colorful pattern of wrist bands. Her hair is in pigtails as shown in her Flash4wrd look, and instead of wearing hoops she wears silver tear drop earrings.
Dance Central 3 Look:
She has a blue cap with a yellow and black button on it. In her outfit, she is shown to be wearing a black short-sleeved shirt with lots of badges, and under that shirt is a green quarter-sleeved shirt. Li'l T has a yellow and purple striped wristband on her wrist. She also wears blue jeans, red and green socks, and black shoes. She also has a tiny yellow bag on her waist.