Feel the Beat, Feel the Music.
This is a community website dedicated to the Xbox 360 Kinect game
Dance Central, Everything you need to know about the game is listed here.
Feel free to edit any pages or make an account. Don't put anything non Dance Central related.
If you wanna post stories of your memories from playing Dance Central, post them on blogs instead of articles.
About Dance Central Games
Dance Central is a series of music video game for the Xbox 360 that uses the Kinect motion peripheral.
The game was developed by Harmonix, creators of the Guitar Hero and Rock Band franchises, and is a
launch title for Kinect. Because of the success of the game A sequel titled Dance Central 2 was officially announced at E3 2011 and later released in October 2011 and another sequel called Dance Central 3 which was announced at E3 2012 and was released in October 16, 2012 for the US,Canada & Latin America & October 19, 2012 in Europe,Asia,Australia & Japan.
Games
Dance Central
Dance Central is the first game in the series. Gameplay involves the player performing given dance moves which are tracked by the Xbox 360 Kinect and represented on the screen by one of ten in-game avatars. There are five modes available for play.
Dance Central 2
Dance Central 2 is the sequel to Dance Central music video game developed by Harmonix Music Systems for the Xbox 360 Kinect. The core gameplay in Dance Central 2 is mostly identical to the original Dance Central. Players perform given dance moves, which are tracked by the Kinect. The more accurately the player performs the move, the more points he/she scores. Higher difficulties increase move complexity, and the margin for error is reduced. Features new to Dance Central 2 include voice control, simultaneous 2-player gameplay in both cooperative and competitive modes with drop in/drop out functionality, an improved fitness mode, a more in-depth and customizable "Break it Down" mode, allowing the player to practice only specific moves in a routine, and a campaign mode featuring dance crews of various styles.
Dance Central 3
Dance Central 3 is the third game in the series. In this game,the player is working for DCI. (Dance Central Intelligence) Their goal is to recruit back crews from the past to the present. New features to Dance Central 3 are the Crew Throwdown mode,more mini-games & having a new more broader story-line.
Dance Central: Spotlight
Dance Central: Spotlight is a downloadable game for the Xbox One. Features daily DLC and multiple routines.

Announcements
Dance Central: Spotlight has been released on the Xbox One! Go and download it now!
Featured Article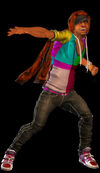 Mo
Mo is one of the Characters Dance Central,Dance Central 2 & Dance Central 3. He....Read more...

Create blog post
Blogs
Recently, Gameboyz829 gave me admin rights and with them, i hope to make a better wiki!

Read more >

I noticed that all crew articles have the word crew on their names. And i think we should remove thi…

Read more >

There has been no further announcement of Dance Central 4, however there might be hints, according …

Read more >

Hi everybody!I'm KitKat11.I live in the USA,I was born on May 5th,and I love to sing,dance,and act.…

Read more >

i just wanted to ask first.

since i cant see much on DC3 listed on the characters pages, and for sta…

Read more >

This might be a weird idea but wont it be cool if there was a roleplay forum. ( ´ ▽ ` )ノ theres see…

Read more >
See more >
Featured Poll
What do you think about the new Dance Central?